Did you finally take the step to go paperless and engage with the digital world? That is good and exciting news! As you already know an electronic signature is one of the tools that you can use to make your life simpler and more affordable. But how to electronically sign? Before we get into how to do an electronic signature, let's understand what an electronic signature is.
What's An Electronic Signature?
Simply put, an electronic signature or e-signature is a legal way to get approval or consent on electronic forms or documents. Overall speaking, it can replace a traditional pen and paper signature in virtually any process. Examples include application forms, contracts, nondisclosure agreements, change authorizations, vendor onboarding documents and RFPs, new hire onboarding forms, and government benefits enrollment forms.
What Can You Use E-Signatures For?
The truth is that you can use electronic signatures for virtually anything. However, they tend to be mostly used in the following departments:
HR: Both employees and candidates can easily fill and sign electronically onboarding forms and offer letters.
Sales & Marketing: As a business owner, you are always looking to close deals as fast as you can and e-signatures can do the trick. Besides, you'll also get rid of many time-consuming admin tasks.
Legal: Between liability forms to nondisclosure agreements (NDAs), these can all be signed digitally. This ensures that your legal processes keep moving at a fast pace. 
Now that you have a better idea about what electronic signatures are and how you can use them, it's time to learn how to do an electronic signature.
How to Do an Electronic Signature
When you want to do an electronic signature, it is wise to use a reliable and safe free electronic signature software like FilesDNA.
One of the best things about using our platform is that you can easily manage all your documents from one place allowing you to finally have all your documents well organized.
Step 1: Go to the FilesDNA ESignature Software and login FilesDNA Software.
Step 2:Click on Signature in the right side menu and add the Signature in the Signature Section. Here you can upload your own paper ink signature or you can choose a suggestion signature, even you can create a signature manually.

Step 3: Go to my document section & upload the PDF file.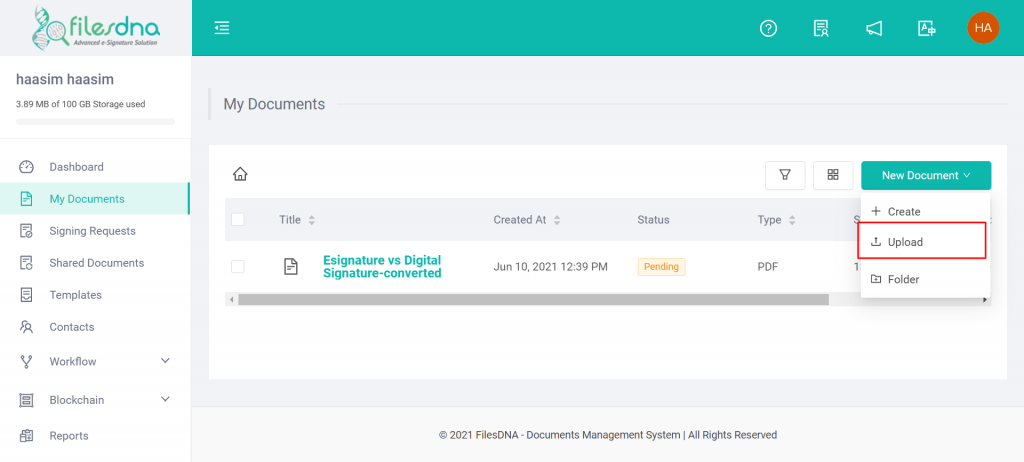 Step 4: Open the Upload Pdf file by clicking the action. Another menu pop-up and in that go to the edit option.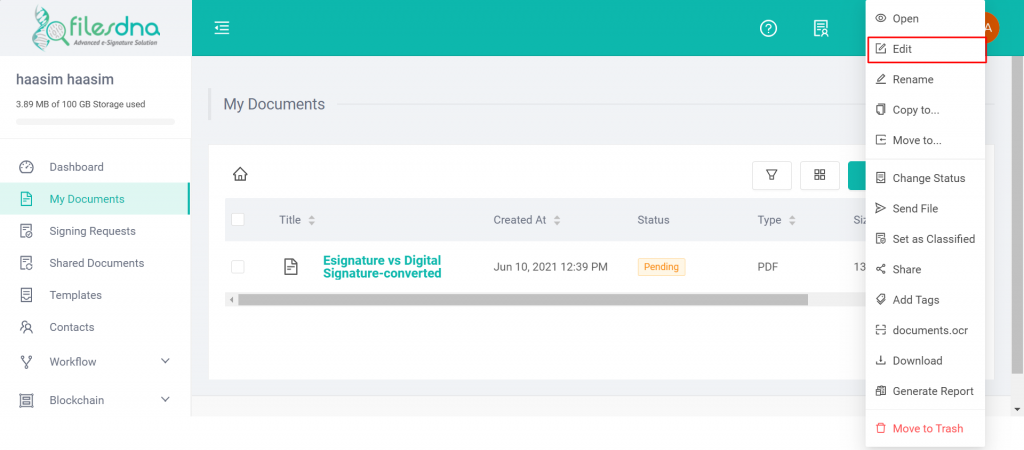 Step 5: Now, after the Pdf file open, you can see "Sign" in the toolbar menu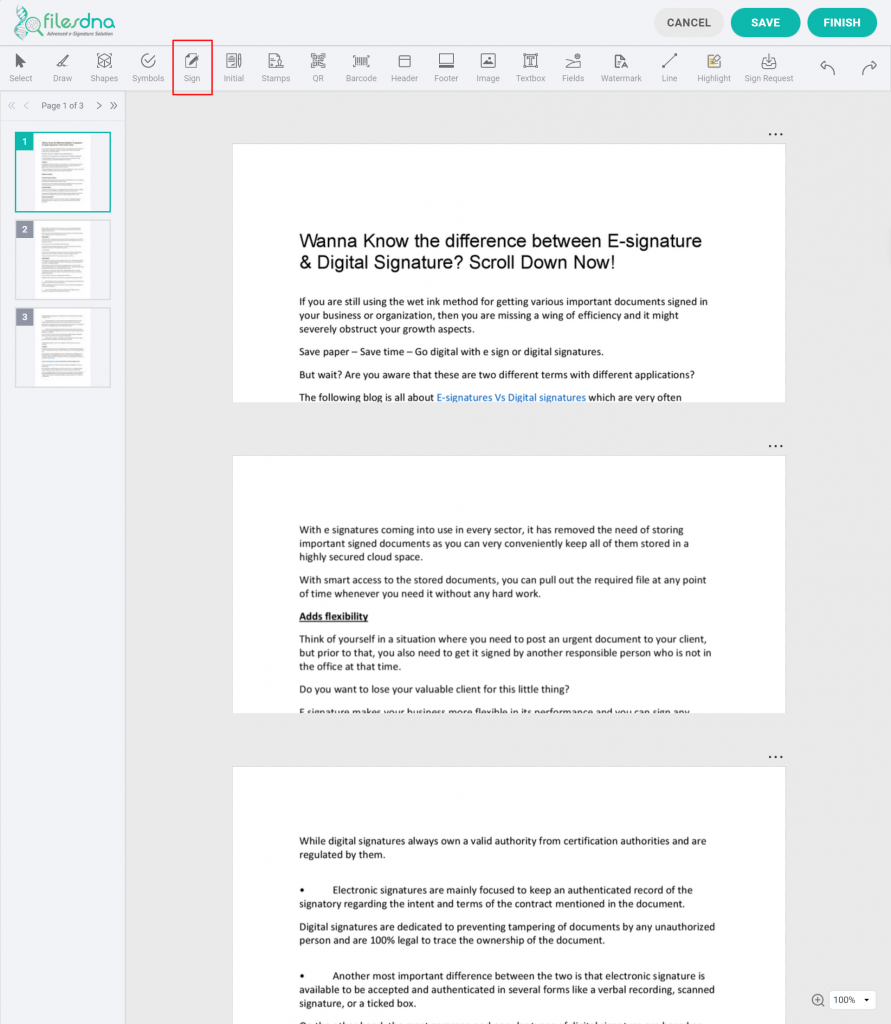 Step 6: Select the sign option, and in the next movement, your signature dialog box will open.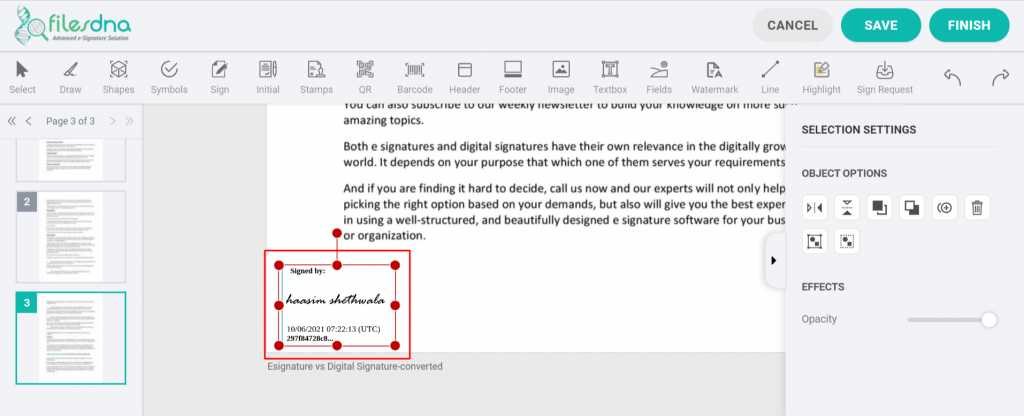 Step 7: Place your signature anywhere you want in the file and save the file, then click on the finish button.
Step 8:After that, a new dialog box appears. In that select the option as per your choice. And after that, the exported file will be ready with your signature.

As you can see, it is very easy to create electronic signatures using FilesDNA.
Benefits of Using FilesDNA's Electronic Signature
Easy:
One of the main advantages of using our free electronic signature software is the easiness. As we just described, no matter if you're creating a new signature or uploading one, it is incredibly easy and fast.
Convenience:
One of the main benefits of using FilesDNA's e signature is its convenience. After all, you can easily upload your already created signatures or create a new one. Besides, you can create electronic signatures for each user automatically.
Secure:
It is a secure and reliable platform that allows you to organize all your documents as well as sign the documents that you need. To ensure that your data is always secure, we use blockchain security to ensure that the result is an authentic, transparent document. You can also rest assured that our user-friendly process will instantly verify your official documents and records.
Keep Track Of All Your Documents:
When you are using FilesDNA, you will be able to stay on top of all your documents including the ones that were revised, sent for approval, the ones that were signed, and by who they were signed, among many others. This allows you to have complete control.
Be In Control No Matter Where You Are:
As a business owner, you may not be at your office all the time. However, you may still need to sign a couple of urgent documents. When using e signature software, you don't need to go back to the office just to sign them. You can simply access the software from anywhere and at any time because it is based on the cloud. This means you don't even need to install any software. You can even use our app that is available for both iOS and Android.
Smart Signature Pad:
The last FilesDNA's electronic signature we want to tell you about is the smart signature pad. 
Simply put, the smart signature pad is a simple way that you have to add your signature with a wireless pen. If you're someone who likes the touch and feel of signing up a document, then you'll love this feature since it will be like if you were actually signing the paper. One great advantage of using this pad is that thanks to AI and machine learning technology, your signature's forgery will be even more difficult. 
How to Do an Electronic Signature in Word?
As you enter the digital era, you are looking to put a stop to the upload of a picture or scan of a signature, print a document, sign it with a pen, and fax, scan or email it. Ultimately, you are trying to put a stop to this entire waste of time and resources.
The good news is that you can do an electronic signature in Word. But how to do an electronic signature in Word exactly?
Simply put, you can easily do your electronic signature in Word directly. When you use the Scribble feature in Word, the cursor will change its appearance to look like a pen. This will allow you to write free-form on the page and create your signature that you can move around as you like.
All you need to do is to click on the Insert tab on the Ribbon. Then, in the Illustrations group on the Ribbon, select the Shapes icon and then just click on the Scribble button on the drop-down Shapes menu, under the Lines heading. This button will display a curlicue scribble, and if you hover the cursor over it, a "Scribble" label pops up.
Now, you will need to click on the page where you want to create your signature. Hold down the mouse button and move the cursor to draw it.
As soon as you release the mouse, the scribble will become a fixed shape. This is why you should only let go of your mouse when you've completed your signature. When you're done, just save it. 
How to Do an Electronic Signature on PDF?
One of the main benefits of using FilesDNA's electronic signature software is that it will be incredibly easy to learn how to do an electronic signature on PDF. 
To begin with, you will need to select and edit the PDF file. Then, you'll need to select Sign on the top menu. As soon as you do this, you will only need to place your signature in the document. Notice that you can even resize it if you need to.
As soon as you're happy with the result, you can simply click Save to save the signed PDF and then Finish to export it as PDF. In case you just used the wrong signature, you simply click on Cancel and add the right signature. 
Bottom Line:
Creating an electronic signature is just as easy as using it. However, you need to have a reliable and secure partner on your side like FilesDNA. So, what are you waiting for? Register for a free account at FilesDNA today!
Note: This Article also publish on Medium.com